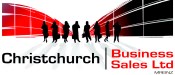 Christchurch Business Sales
Christchurch Business Sales Ltd
40 Enverton Drive
Rangiora 7400 03 379 1779
Contact:
Ron Dougall
Christchurch Business Sales Ltd was established in 1991 and has built a strong client base of buyers and sellers from our 25 years of successfully negotiating and selling small to large businesses worth millions of dollars.
Business Brokers

03 379 1779
0274 360 950

83 Kotuku Cres
Woolston
Christchurch 8023
0274 338666
03 849777
Christchurch Business Sales
---
Email Ron Dougall from Christchurch Business Sales - Canterbury
CONTACT A BUSINESS BROKER
Please fill out the form below to send us an email.
We will be in touch with you promptly.