Be a franchisee success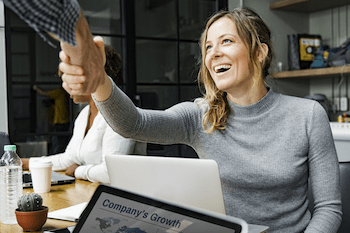 How to succeed as a franchisee... and be a franchise success!
Even with the security of a franchise system behind you, being a successful franchisee isn't guaranteed. It takes a lot of hard work, a fair amount of skill and a big helping of the right attitude.
If you've selected your franchise well then you have started ahead. Your franchise will be the right fit for your skills and interests, the franchisor will be supportive and the franchise system underpinning it all will be solid. Now, how your franchise performs is up to you. Here are our tips to help you succeed as a franchisee:
1. Follow the rules
It's not uncommon for franchisees, once they've got their business up and running and gained come confidence, to start rocking the boat – such as introducing new products or services, or changing opening hours. Questioning and challenging is good for progress but bear in mind the franchise existed successfully before you. At one end of the scale you could end up violating your franchise agreement, at the other end you could jeopardise your relationship with the franchisor and the other franchisees. A franchise by nature delivers consistency. Being loyal to your brand will protect your investment in the long-term.
2. Don't underestimate the value of good customer service
It's a simple formula – treat people well and they will like you. If they like you, they will be more inclined to support your business. Set your expectations high and be a role model – work hard for your customers, smile, be personable and go the extra mile. A little goes a long way.
3. Recruit and retain good staff
It's true that it's hard to find good staff. That's why, when you've found them you should be doing everything you can to keep them. Some franchise businesses, such as fast food franchises, typically have high staff turnover, and while this partly comes with the territory there are things you can do to buck the trend. You can offer support, training, job variation, leadership opportunities and incentives. If appropriate, you can also help valuable staff to view their franchise job as a career not just a stop gap. Successful franchises treat their staff well, and happy staff make for happy customers.
4. Make sure you have enough money
Excessive optimism can be a recipe for franchise failure. It's not uncommon for new businesses, including new franchises, to lose money at first for a year or two. With a franchise, the upfront fees are usually clearly defined but often inexperienced business owners underestimate the operating costs. Make sure you have an emergency nest egg should you need it. A slow start most definitely does not spell the end nor is it always a sign of things to come. An extra boost of capital could be all you need.
5. Be hands-on, if you can
A hands-on approach, particularly in the beginning, is the best way to ensure your franchise gets off to a good start. Leaving the management of your franchise to a manager can be risky. No one will care about your business as much as do and no one has as much invested in it as you do. Sure, take a step back when the time is right, just be sure that your place your confidence in the right people.
6. Work hard
In the beginning you will likely work long hours, but in the beginning you probably won't mind. The hard work will continue but hopefully you'll get more efficient and learn to delegate effectively. Regardless, your franchise is your new baby and it needs you. Make sure you priorities well and give your business your best but save some for yourself too.
View our franchise business opportunities or check out our franchise articles for tips on building a more successful enterprise.

Share this article: